Warm Water Pool
Our warm water pool is designed for a variety of uses. Not only will it be used for physical therapy and rehabilitation, but it may also be used for general exercise and swimming. We now offer Arthritis Foundation Aquatics Program Classes, Ai Chi (Aquatic Tai Chi), Water Aerobics, and private swim lessons (Click here for more details).
Benefits of Aquatic Exercise
Water exercise allows you to take pressure off painful leg joints and the low back while gaining range of motion, strength, and endurance.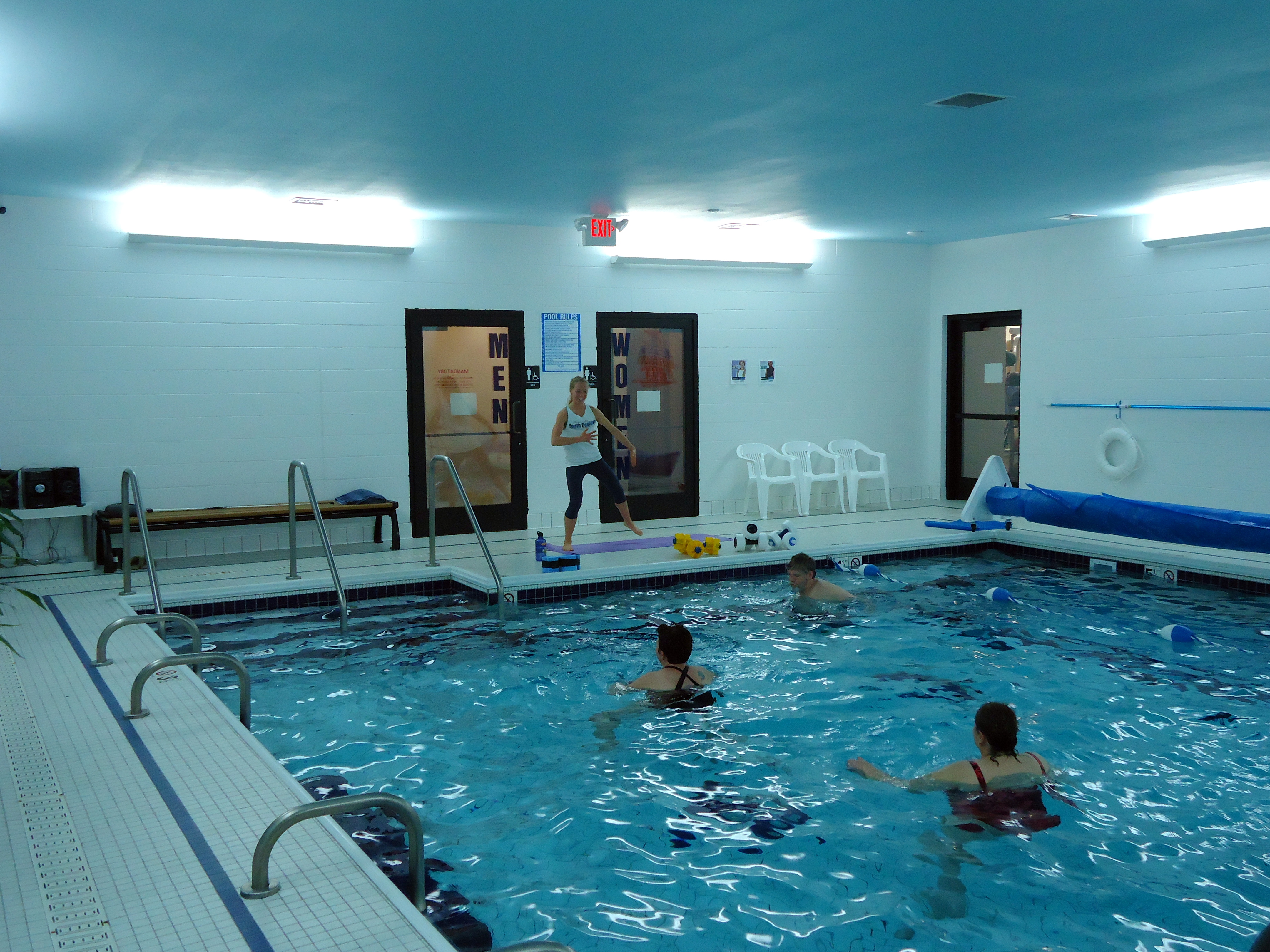 Pool Features:
25′ x 25′ in dimension
variable depth from 3 1/2 to 5 1/2 feet
comfortable 90 degree temperature
stairs and chairlift for safe entry
water current generator for stationary swimming
low impact exercise
cardiovascular work out
cross-training
low impact plyometrics
partial weight bearing exercise
good for those who suffer from arthritis
FREE SWIM POOL SCHEDULE
Monday
6:30 AM – 8:45 AM

*

12:15 PM – 1:45 PM
5:15 PM – 6:30 PM

**

Tuesday
6:30 AM – 8:45 AM
12:15 PM – 1:45 PM
5:15 PM – 6:30 PM

**

Wednesday
6:30 AM – 8:45 AM

*

12:15 PM – 1:45 PM
5:15 PM – 6:30 PM

**

Thursday
6:30 AM – 8:45 AM
12:15 PM – 1:45 PM
5:15 PM – 6:30 PM

**

Friday
6:30 AM – 8:45 AM
12:30 PM – 5:30 PM

**

Saturday
Closed
Sunday – Pool Closed
* Drenched Swim Class 7:30 AM – 8:30 AM, you can swim while the class is going but the class has priority over the pool at that time and you may not be able to swim as you please.
** These times contain the possibility of having swim lessons happening in the pool. If you do not want to be around little children learning to swim and may contain splashing please avoid these times or check with reception before getting in the pool to see if any swim lessons are scheduled.
*** The pool is shared with Mountain Valley Therapy for Aquatic Physical Therapy appointments. Please do not enter the pool if the orange "Therapy in Session" sign is on display. Thank you!