Personal Fitness Training
PERSONAL TRAINING PROGRAM OVERVIEW
Our personal training program is designed for the individual who has specific fitness goals in mind. It is aimed toward taking someone from their current fitness level to their desired fitness level in the quickest and safest way possible. Personal training provides the highest level of accountability and education through individualized program design, consistent instruction, and program monitoring.
Program Includes:
Initial fitness assessment
Resistance training program design
Cardiovascular training program design
Supplement recommendation
One-on-one instruction from a Certified Personal Trainer
Program manipulations when necessary to ensure consistent results
Personal Session & Package Pricing
| | | | |
| --- | --- | --- | --- |
| Sessions | $/Session | $/Package | Savings |
| 1 | $65 | | |
| 6 | $55 | $330 | $60 |
| 12 | $50 | $600 | $180 |
| 18 | $45 | $810 | $360 |
| 24 | $40 | $960 | $600 |
Small Group (2 or more people) Pricing
| | | | |
| --- | --- | --- | --- |
| Sessions | $/Session | $/Package | Savings |
| 1 | $34 | | |
| 8 | $30 | $240 | $32 |
| 16 | $28 | $448 | $96 |
| 24 | $25 | $600 | $216 |
| | | | |
**Small Group training prices shown are per person participating in the Small Group training. Small Group training is defined as 2-6 people working under 1 trainer for 1 hour at a specific time for guided fitness goals. Small Group training is a great way to work out with a friend or family member and still receive professional guidance from our training staff.
**All Packages Require a 50% Deposit **Session payment must be made at or prior to time of session **All Packages expire within three months of first session
Additional services offered by our Personal Training Staff:
Meal Planning (targeting macro, caloric, and vitamin/mineral intake)
Body Fat Testing (using calipers)
VO2 Sub-Max Testing (Oxygen efficiency testing: finds the optimal range of exercise intensity to maximize benefit/result)
5 Reasons to Work With a Personal Trainer
Our personal training programs are for the individual who wants guaranteed results and wishes to eliminate the guess work. We use a 5 component, scientific based, progressive training method to assist our clients in taking their fitness to the next level.
1) Nutrition
Nutrition is the first component for a reason. A proper meal plan is the most important factor in achieving results in the gym, and can account for up to 70% of one's success. We utilize DietMaster Pro, a registered dietitian program to design our individualized, detailed meal plans. Each plan reflects the proper amount of calories, the correct ratio of proteins/carbs/fats, and the exact timing of each meal. We also provide an exchange system that allows you to choose from a variety of foods while still adhering to the program.
2) Cardio
Cardiovascular exercise is important for overall health and weight management. We will design a cardio program for you that is most conducive to your goal. We use the F.I.T.T (Frequency, Intensity, Time, and Type) variables to initiate the cardio regimen and we can manipulate these variables along the way over time so that the program is progressive and we can also avoid overtraining and work out plateaus.
3) Resistance Training
Weight training is essential to build lean body mass and to burn body fat. Different individuals have different goals and their resistance training routine needs to reflect this. We will design a weight training routine that will get you to your goals quickly and safely.
4) Supplementation
Proper supplementation is a key element in a complete health and fitness program. In order for the body to achieve maximal results, it must be well nourished. This will create the ideal environment inside the body for change. The supplement regimen must be a complimentary component to the nutrition and exercise plans. We will make a supplement recommendation for you that will fill the gaps in your nutrition and will help you to achieve faster results.
5) Professional Assistance
This is the job of the fitness professional to design a program around the individual that will get them to their goals quickly and safely. Our goal as trainers is to not only take a person from point A to point B, but to educate them as well. We want to turn our clients into their own personal trainers so that they can maintain a life time of fitness on their own.
OUR PERSONAL FITNESS TRAINERS
Lasa Baxter – Lead Trainer | NASM CPT
Lasa's passion and emphasis is on coaching and training athletes in strength, endurance, agility, quickness and speed. Her specialties include group, youth and women's fitness. She earned a BS in Business and Health Promotion, ASEP National coaching, NASM CPT. She enjoys a variety of outdoor sports, playing and coaching high school volleyball, time spent with family and her sidekick, dog, Finn. Lasa says "I enjoy coaching and mentoring others in health and fitness and feel it is a life calling to do so."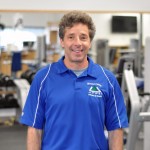 Kirk Creech | TRX
Kirk has been with Mountain Valley Fitness since 2013. He has received his TRX,NASM,CPT certificates. Kirk enjoys teaching a wide range of classes, from working with HS athletes to perfecting their technique and performance to those with physical challenges and our Senior Circuit. Kirk also teaches Cycling, Yoga, Suspension Training and Personal Training. Kirk enjoys family time, cross country skiing, running and hiking. Sign up for a class with Kirk – a stickler for form and technique "all core, all the time and breathe!"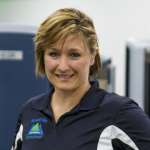 Summer Steele | ISSA CPT
Summer is passionate about bringing a holistic approach to fitness – breath, balance, strength, and nutrition. It all matters! She is a Certified Fitness Trainer and Specialist in Fitness Nutrition and is currently studying to become a Physical Therapist.  Summer has been working in the fitness industry since 2003 and has a wide array of experiences, but she specializes in athletes and corrective exercise to restore strength and balance after injury or long periods of inactivity.  Her own favorite forms of exercise is training for a Spartan Race, martial arts, and road cycling.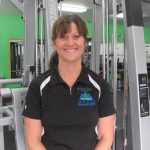 Cally Goss | ACE CPT
Cally has been a long-term resident of La Grande, moving from Yakima at age 6. Cally attended La Grande schools and EOU where she received her Bachelor in Arts and Education. She enjoys teaching, coaching and helping people succeed in accomplishing their athletic/fitness goals. Maybe you know Cally from her years of community service coaching basketball, volleyball and softball as well as leading mission trips through Youth for Christ and teaching art and her involvement with Scouting. Cally and her husband, Mark enjoy golfing, outdoor activities and spending time at their mountain cabin. They also enjoy spending time with their 3 grown children and 3 grandkids. Cally is passionate about fitness and helping a variety of fitness levels and age groups to make their goals achievable.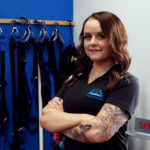 Tailor West | ISSA CPT
Tailor is currently attending Eastern Oregon University. She is growing her personal training clients and still taking on new clients. Tailor has prior experience as a personal trainer and managing the gym in her home town of Winnemucca. She is an ISSA certified personal trainer with a specialty in strength and conditioning training. Tailor is passionate about all things fitness, health and gym related and it is her goal to one day run her own gym again.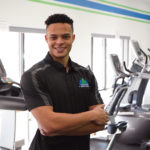 AJ Watter | NASM CPT
AJ is a NASM certified personal trainer. He is passionate about fitness and helping others achieve their goals. AJ has coached athletes at a variety of levels as well as working as a personal trainer creating workout routines in his previous employment, he is no stranger to the personal training scene. Originally from Aurora Colorado AJ is currently a EOU student studying business as well as playing on EOU's soccer team. AJ wants to be your personal trainer and help you be the very best you that you can become.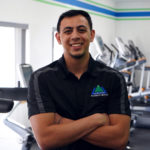 Jaiden Machuca | BS Exercise Science

Jaiden is a EOU graduate with his bachelor degree in Exercise Science. He is our newest personal trainer and he is eager to help people experience the full joy of living. Jaiden also works for Mountain Valley Therapy as a gym aide, his goal is to become a physical therapist one day. As a student athlete at EOU he is no stranger to helping his team mates reach fitness goals. He plans on entering PT school in the fall. Until then Jaiden is ready and waiting to help you with all your summer fitness goals.