About us
Welcome to Mountain Valley Fitness & Health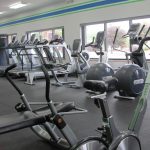 Mountain Valley Fitness & Health is a state of the art fitness facility that offers the highest quality in equipment and service.
Amenities include: full line of strength and cardio equipment, personal training, nutritional planning, sports, specific training, group fitness classes, outdoor training facility, warm water therapy pool, locker rooms with showers and saunas, and more!
Our highly qualified and experienced staff provides a family oriented, community friendly environment that welcomes people of all ages and fitness levels. Our passion is to help our members to achieve their wellness goals and to maintain a healthy lifestyle.
Our Mission is to honor and glorify God in all that we think, say and do; create a supportive environment in which employees can achieve their professional, personal and spiritual goals and potential; provide clients and members with the highest quality, individualized fitness experience to maximize functional abilities and hence quality of life; and promote active participation in our community by all employees.
Our Vision is to use our passion to empower all people to experience the full joy of living!