COVID-19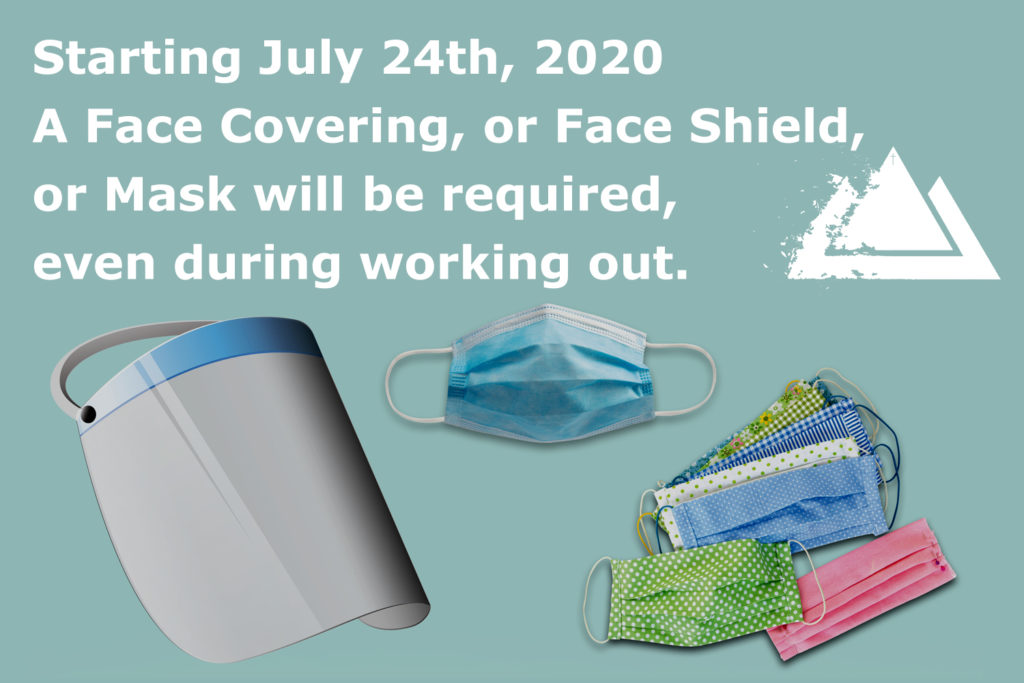 Beginning July 24, the following new requirements will apply:
Face Coverings
Face coverings will be required for all Oregonians ages five and up in indoor public spaces and outdoors when six feet of distance cannot be maintained.
Face coverings will be required even in cases of physical exertion indoors, and outdoors when six feet of distance cannot be maintained.
Due to Oregon's new mandates on face coverings, people entering the facility will be required to wear a face covering even during their work out. A face covering can be a mask, a face shield or a face covering such as a cloth bandana. Children 5 and up are also required to wear a mask, please plan accordingly if you bring children into the facility. We know that it is difficult to workout wearing a face covering, but because social distancing in our facility is challenging during busy times you will be required to wear a face covering during your work out.
Phase 2
We are so excited that Union County is able to move into Oregon's Phase 2 reopening plan. As part of that plan we are now allowed to open our pool to our members. Those using the pool still must maintain social distancing, and we will be limiting the amount of people in the pool to better comply with social distancing. We will be allowing 2 household units in the pool at a time. For example, if you take your child into the pool that would count as 1 household unit, we could still have 1 other person or household unit in the pool. You will need to call ahead and reserve your pool time, call 541-663-0462 and schedule your pool time, you can reserve multiple times per week.
Starting June 8th our pool hours will be as followed.
Monday – Thursday
6:30 AM – 8:45 AM
12:15 PM – 1:45 PM
5:15 PM – 6:30 PM
Friday
6:30 AM – 8:45 AM
12:30 PM – 5:30 PM
The single stall showers will be available for use for those using the pool.
If you want to read the official document on pool re-openings for phase 2 you can do so by clicking here.
No other changes at this time to our operations of the facility. The majority of all rules that phase 1 put into place are still in place and we will continue to follow those rules until the state changes them. You can read the additional rules we must follow from phase 1 below.
Phase 1 (Updated 6/4/2020)
Thanks to Oregon's phased reopening plan we are beginning to reopen the Fitness Center. As many of you know the Union County was accepted to start Oregon's phase 1 reopening plan. In phase 1 gyms can begin to reopen but there are a lot of rules we have to follow to comply with the state and make a safe reopening for you and our staff. Listed here are some temporary rules and changes that we are being required to do at this time. Some of these changes include things like closing the pool and showers. This is not our preference we are doing this to be in compliance with the state. Things might still change as we constantly adapt to the rules of the state. We plan to post any new changes here as well as our Facebook page.
If you want to read the official document from the State of Oregon that we adopted our Phase 1 COVID-19 rules from you can read it by clicking here.
Occupancy limit: At least for the next several weeks or as long as we are in phase 1, we will only be allowing 10 members in the gym at a time to work out. Under Oregon's guidelines we are allowed to have 25 people in the gym, but we are reserving 15 places for trainers working out with clients, and then various other staff members, because staff does count to our occupancy limits. Some rooms such as our stretching room and locker rooms will have a limit of people in them as well to comply with social distancing. Please make sure you read the signs which will be posted at the entrance of a room, the signs have a red box and inside that box is a maximum occupancy limit for that room.
Appointments: You will need to call 541-663-0462 to make an appointment to use the gym. We know this is an inconvenience but it helps us manage our occupancy limits and the tracing requirements put forth by the state. That also mean that you might have to plan your workout more in depth. You might not be allowed to workout past what you signed up for if others have signed up and are wanting to get into the gym. You can walk in to use the gym during our Gym Hours posted below, but if we are already at our occupancy limits, or if we have people signed up and coming in to work out you might not be able to work out. It is best to call us and schedule your appointment, if you do not reach us on our business line please leave a message.
Sign In: We have always required members to check in with their scannable key card. We still want our members to do this but we are also asking that they alert the reception staff. This is mainly to check in with reception so they can make sure you showed up for your appointment. We are being required to do this in case the state contacts us for contact tracing purposes should someone be diagnosed with COVID-19 that used our facility.
Gym Hours: The gym will be on reduced hours for the foreseeable future. The new hours for members allowed to work out are Monday – Thursday 6:00 AM to 7:00 PM, Friday 6:00 AM to 6:00 PM. We will be closed on the weekend.
Business Hours: If you want to schedule an appointment or talk to someone about your account you can do so during our business hours which are Monday – Thursday 8:00 AM to 5:00 PM, Friday 7:00 AM to 4:00 PM. You can also always call our business line and leave a message to schedule an appointment.
Training Hours: Our personal trainers are eager and ready to help you reach your fitness goals. They will be practicing social distancing to the best the profession permits. Personal trainers can train clients any day of the week between 5:00 AM and 10:00 PM. The schedule of a personal trainer and a client is completely up to both parties. If you were working with a trainer before we closed due to COVID-19 please call us we would love to see about getting you scheduled again. If you are new to personal training give us a call and let's see about setting you up with one of our trainers.
Social Distancing: You will be required to keep 6 feet of distance between you and other people not from your household. We have signs posted all around the gym and if we see members not practicing social distancing they will be asked to do so, members who continue to defy this rule may be asked to leave or even have their membership revoked.
Masks: As of July 24th 2020, you will be required to wear a face covering, face shield or mask during while in our facility, even when working out.
Symptoms: Members as well as staff with symptoms of COVID-19 should stay home. Those symptoms include but are not limited to fever, cough, shortness of breath, chills, muscle pain, sore throat and loss of taste or smell. Members or staff with visible symptoms of COVID-19 may be asked to go home. Individuals with symptoms of COVID-19 should seek medical attention from their primary health care provider. Individuals with symptoms especially a fever should remain home for at least 3 days after the fever has broken. Signs detailing the symptoms of COVID-19 are currently placed all throughout the Fitness Center.
No Classes: We are very sorry but at this time all classes are canceled to help us comply with social distancing and occupancy limits.
No Swim Lessons: Currently we are still not doing swim lessons even with the pool being able to open due to the close nature of the instructor and student and not being able to properly wear masks in the pool in that situation.
Showers: Our single stall showers will be open now due to the needs of the pool and the fact that the single stall showers provide a barrier for the user and anyone else in the locker room.
No Sauna: The state of Oregon is not allowing us to have our sauna open at this time. We apologize for the inconvenience it will be shut off until we are allowed to turn it back on.
Outdoor Park: The outdoor park will be open, and those people in the park do not count against our building occupancy limits, but those members working out in the outdoor park are still required to keep social distancing of 6 feet and sign in at our front desk. We are required to keep a log of all those people using our facility even the outdoor park, this log is for contact tracing purposes should we be required to tell state agencies who used our facility and at what times.
Equipment: We will be blocking off some equipment and moving others. It will make our gym less pretty but more functional so we can comply with social distancing better. Any piece of equipment that has "caution" tape is off limits at this time. We also have caution tape on our showers, and saunas because they are also closed due to state orders.
Cleaning: We will be cleaning more, but you will be required to clean each piece of equipment before and after you use it. We have added more bottles of cleaner there should now be enough for every member to have their own to use during their workout.
Hand sanitizer / Hand washing: You will be asked to use hand sanitizer or wash your hands before and after your workout. We have hand sanitizer here available to use.
One-way traffic: We will be encouraging one-way traffic in our facility. Members will be encouraged to enter normally through the entrance and exit through the side door of the facility.
Personal Training: Personal training is allowed so long as trainers keep social distancing as much as possible. If you were regularly working out with a trainer before this all started, they should be contacting you shortly to see if you want to start back up again. If you don't hear from them soon please reach out to them or us.
Reception: When you enter MVFH you will notice that our reception area has moved to the middle of the gym. We did this for a couple reasons. One is that it helps us keep social distancing by decreasing the bottle neck right at the front door. Two is that is allows our receptionist to work at a more work appropriate location and keep a better eye on things in the gym. If you need assistance please look for a receptionist in this area. This is also where you come to sign into the gym.